About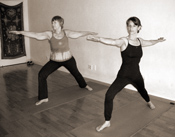 Yoga Studio Ganesha started as a cozy studio hidden behind Main Street in Sebastopol. Then, the parking area became more of a plaza, with friends meeting for an outdoor lunch, children playing by the fountain, a series of free concerts, and the Sunday farmer's market bringing local produce and crafts in spring, summer, and fall. And Yoga Studio Ganesha began to attract more teachers and students. Still an intimate, warm and friendly place, it has become a favorite spot for all ages and levels of yoga practitioners to learn and practice the ancient art of yoga.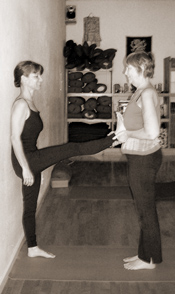 Yoga Studio Ganesha has undergone some changes since it first became a yoga studio in 1997. It was initially owned by John Smith and was called "The Yoga Circle". After a short time, John changed its name to "Studio Ganesha". Then, in August 2000, Devorah Blum became the new owner and it has since been known as "Yoga Studio Ganesha".

Along with Devorah, Ann Austin has been teaching regular classes at the studio since it began. She offers more of a flowing Ashtanga practice, while Devorah's class is based on a gentle Iyengar approach. To learn more about the classes and teachers at the studio, visit the teacher & class description page as well as the schedule page, and feel free to contact the teachers directly if you have any questions.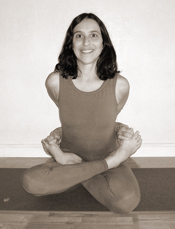 Devorah Blum, Director, began to study yoga in 1975, becoming a dedicated student of Iyengar Yoga at an early age. She learned from senior Iyengar teachers and spent time in India where she studied with the Iyengar family. She also completed two "Relax & Renew" trainings with Judith Lasater where she learned to teach restorative yoga. Devorah's depth of understanding of the postures along with her attentiveness, compassion, and sensitive guidance allow her to inspire and nurture each student. She also draws from her personal experiences with pregnancy and parenting to teach prenatal and postpartum yoga. Please call Devorah at Yoga Studio Ganesha to find the class that best suits your needs.

Helpful Hints for New Students
What to Wear
It is important to wear comfortable clothes when practicing yoga. Although there is a variety of fancy yoga apparel to choose from on the market, you can also simply wear shorts and a t-shirt. You should have access to bare feet, so footless tights are more appropriate than ones with feet. It is nice to wear layers in case you get too warm or too cold. When you come to class, please refrain from perfume, cologne, strongly scented lotions, or anything that has a lingering scent.
What to Bring
There is nothing you need to bring to your first class except an empty stomach and an open mind. We have yoga mats and other supplies for you to borrow. If you become a regular student or yoga practitioner, we recommend buying your own mat for your personal practice.